© 2023 The Shelter, is a 501(c)(3) tax-exempt organization (EIN:83-3563531 ). All donations are tax-deductible where allowed by law.
A letter from Fundraising Chairman
Dear Shelter Ohana,
THE SHELTER will be holding a fundraising GALA on November 12, 2022.  Details will be forthcoming!
You have been specially chosen and invited to BE PART OF THE SOLUTION because of your hearts of generosity. We all want homelessness to disappear! And yet we don't know how to help. Until now.
THE SHELTER is a proven solution! Not the only one. But it is one that works. Several families have already been successfully integrated back into society as productive citizens.
BE PART OF THE SOLUTION by becoming part of  The Shelter Angel Ohana by following the link https://www.theshelter.org/donate/.
As a special sponsor, you will benefit from press and social media recognition in the community as an organization or individual that:
CARES about the homeless problem,
INVESTS wisely in solutions that are proven,
TRANSFORMS lives with changes in the heart.
In this difficult economic season, we can still make a difference in the lives of the hurting.  Let's work together to BE PART OF THE SOLUTION!
Please contact Daniel Kaneshiro, the Shelter Executive Director, at 808-372-3451 to see how your sponsorship can most effectively contribute to make this event a success!
Mahalo and Blessings,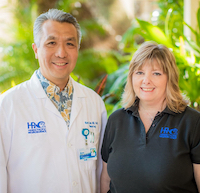 Dr. Kore and Michelle Liow
HAWAII PACIFIC NEUROSCIENCE